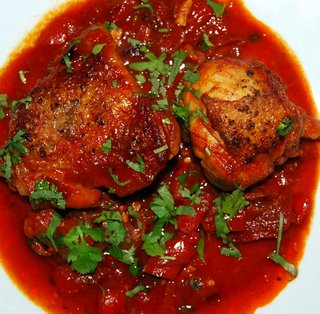 Ingredients/Ingredientes
3 tbsp olive oil and 4 red peppers, washed and dried

1 large chicken, jointed into 2 breasts and 2 legs
salt and pepper to taste
3 garlic cloves
2 onions, finely chopped
150g(5.5oz) piece of Iberian ham, or Serrano ham, diced
400g(14oz.) tin chopped tomatoes, parsley to garnish
Method/Elaboración
Preheat the oven to 190 degrees (gas 4). Rub 1 tblsp of olive oil over the peppers. Put on a baking tray and roast in the oven for 15 minutes. Set aside to cool, then peel and cut into 1cm (1/2in) strips.
Season the chicken pieces with salt and pepper. Heat the remaining 2 tbsps of olive oil in a casserole over a medium heat. Add the chicken and brown on all sides, then remove from the casserole and set aside.
In the same casserole, lightly fry the garlic, onions and ham. When lightly browned, add the tomatoes and strips of pepper, and return the chicken pieces to the pot. Stir everything together well. Bring to the boil over a medium heat and simmer over a low heat for about 40 minutes, stirring from time to time, until the chicken is tender and cooked through. Adjust the seasoning if necessary.
Spoon a generous quantity of the red pepper and tomato sauce onto the centre of each plate. Lay a chicken piece on top, slightly to one side. Garnish with parsley.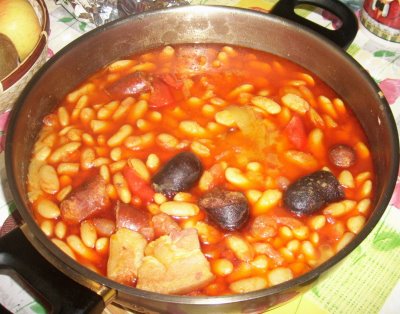 Ingredients/Ingredientes
1 kg dried white beans (haricot)
300g (10.5oz) pork shoulder
100g (3.5oz) piece of Iberian ham or Serrano ham
2 chorizo sausages, 15cm (6in) long
2 morcillas (black puddings),15cm long
1/2 onion
1 carrot
A few strands of saffron
Sprigs of parsley to garnish
Method/Elaboración
Soak the beans overnight in plenty of cold water.
Drain the beans and tip into a large saucepan. Cover with fresh cold water. Bring to the boil then simmer over low heat for about an hour, skimming off any residue that rises to the surface.
After this time, add the rest of the ingredients and cover with more cold water. Bring back to the boil and simmer over a low heat for 2 hours, or until the meats are cooked through. Stir gently from time to time, taking care to keep the beans whole.
Remove the meats, sausages, black puddings and vegetables from the pan, cut them into small pieces, to produce a mixture known as compagno, and set aside. Ladle some beans and sauce into deep bowls. Then add a selection of the compagno.
Garnish with sprigs of parsley.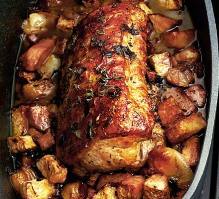 Ingredients/Ingredientes
1.5 kg fillet of beef
1/3 cup finely chopped blanched almonds
2/3 cup finely chopped green olives
1 tsp ground cinnamon
1 tbsp olive oil
1 cup red wine
1 cup beef stock
2 tbsp tomato pastee
Method/Elaboración
Make 5 deep cuts in centre section of the fillet, and firmly push almond mixture into cuts, before tying meat securely with string.
Add meat t to oil in heated large pan, and cook medium-high for 3 to 4 minutes until evenly browned all over.
Add stock, wine and tomato paste, and bring slowly to boil and simmer covered for 1.5 hours until beef tender.
Take meat out of pan and cover with foil to keep warm. Bring liquid to boil for 10 minutes until sauce is thick and reduced.
Serve beef thickly sliced with sauce.
Overall preparation time is 25 minutes, with cooking time 1.5 hours.
BASQUE COUNTRY: Marmitako - Basque-style tuna and potato stew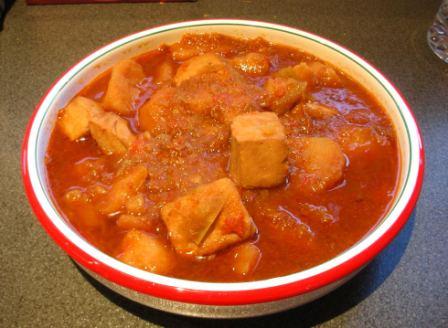 Ingredients/Ingredientes
200 ml oil
2 onions, chopped
3 green peppers, chopped into rings
4 tinned piquillo peppers, chopped into small pieces
4 garlic cloves, chopped
2 kg potatoes
1 kg tuna
150 ml tomato puree
Method/Elaboración
Fry the onions in the oil. Season with salt and add the garlic and green peppers. When almost fried, add the piquillo peppers.
Fry lightly then add the potatoes, previously chopped into medium-sized pieces.
Cover with water, add the tomato puree, the laurel leaf, and leave to cook until tender.
Add salt to taste
Add the chopped tuna and leave to cook gently for approximately 15 minutes.