ARGENTINA: Marinated BBQ Steak with Chimichurri sauce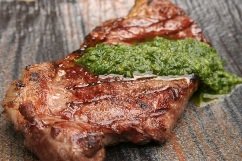 Ingredients/Ingredientes
4 Sirloin steaks
3 red onions cut into wedges
3 tomatoes cut into wedges
1/4 cup red wine vinegar
1/4 cup olive oil
1 tsp dried oregano
1 tsp sweet paprika
seasoning
Method/Elaboración
Put steaks, onions and tomatoes in a large oven proof dish
Mix the wine vinegar, olive oil, oregano, paprika and season.
Pour mix over the steaks, cover with cling film and put in fridge for 30 mins.
Remover the steaks from the marinade, and cook with the tomatoes and onions on a BBQ or grill for 3 minutes on each side or to suit your taste.
Serve the steaks with onion wedges, tomatoes and chimichurri sauce with fries and salad.
Chimichurri sauce:2 cups parsley; 1 cup grated carrot; 2 cloves chopped garlic; 4 peeled shallots chopped; 1 long red chilli seeded and chopped; 1/3 cup red wine vinegar; 2 tsp dried oregano; 1/2 tsp sugar; 1/4 cup oliver oil; and ground salt and pepper. Combine in food processor until roughly chopped.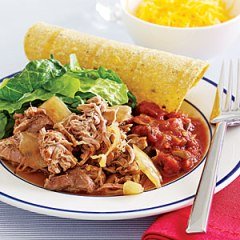 Ingredients/Ingredientes
2 Kg pork cut into cubes of 7cm.
I Kg of vegetable fat
1 spoonful of salt
1 tsp of fresh ground pepper
5 cloves of garlic
I large peeled onion cut into quarters
3 slices of peeled orange
1/3 cup of milk
Method/Elaboración
Sprinkle the salt and pepper all over the meat
Brown the meat on a high heat in a large frying pan in the melted vegetable fat for 20 to 30 minutes
Keep moving the meat from time to time
Add the onion, orange and garlic, and turn down the heat to the lowest level and cook for one hour
Then pour in the milk and vigorously stir all the ingredients
After half and hour, turn off the heat and take out the pieces of meat
Serve the meat on a pretty plate accompanied with guacamole and eat it like tacos with warm tortillas after shredding the meat.
ARGENTINA: Stuffed Chicken Breasts
Ingredients/Ingredientes
4 trimmed chicken breast pieces
4 slices of torn prosciutto
1 red pepper, roasted and sliced
1 chopped hard boiled egg
8 black olives, pitted and sliced
2 tbsp raisins
2 tbsp chopped parsley
2 tbsp flour
2 tsp dried oregano
2 tbsp olive oil
Method/Elaboración
Open up the chicken breasts to lie flat on a board
Place the prosciutto over the chicken breasts
On one side place the red pepper, egg, olivers, raisins and parsley. Fold chicken over and secure with cocktail sticks.
Cut red peppers into quarters, removing any seeds. Cook on a baking tray under preheatd grill for 6-8 minutes until skin blisters and turns black. Leave to cool then remove skin.
Mix the flour with oregano, salt and pepper in a shallow dish.
Lightly coat the chicken with the seasoned flour.
Heat the olive oil in a large frying pan over a medium heat, and add the chicken to brown all over, then remove.
Place chicken on a line baking tray and bake in preheated oven at 200C for 10 minutes.
Remove cocktail sticks and slice the chicken.
Serve with potatoes, green beans and tomato salsa.