NEW YEARS EVE - LA NOCHEVIEJA
IN SPAIN - EN ESPAÑA

New Year's Eve in Spain is typically about family gatherings and certainly most people celebrate at home at least until midnight. There is usually a family meal of lamb, shrimp or capon.

Everyone partakes in the custom eating 12 grapes on each stroke of the clock to represent good luck for the coming 12 months. Watch a video of a Spanish family carrying out this tradition to the right. This tradition dates back to 1909 when there was an usually large grape harvest in Alicante and it was decided to give everyone grapes to eat on Nochevieja.

La Nochevieja en España típicamente consiste en las reuniones familiares y es cierto que la mayoría de las personas celebran en casa al menos hasta la medianoche. Generalmente hay una comida familiar de cordero, camarones o capón.

Todo el mundo participa en la costumbre de comer 12 uvas con cada campanada para representar a la buena suerte para los 12 meses siguientes. Ver un vídeo de una familia española haciendo esta tradición a la izquierda. Esta tradición se remonta a 1909 cuando hubo una gran cosecha de la uva por lo general en Alicante y se decidió dar a todos las uvas para comer en Nochevieja.
| | | | | |
| --- | --- | --- | --- | --- |
| | Most people watch the celebrations on TV particularly the clock of the Casa de Correos in the Puerta del Sol, the main plaza in Madrid. Everyone eats the grapes and drinks Cava or Champagne before going back home or off to the nightclubs or parties (cotillones de nochevieja). | | La mayoría de la gente ve las celebraciones en la televisión sobretodo en, el reloj de la Casa de Correos en la Puerta del Sol, la plaza principal de Madrid. Todos comen las uvas y beben cava o champán antes de volver a casa o ir a las discotecas o fiestas (cotillones de nochevieja). | |
| | | | | |
Some of these parties last all through the night, after which everyone has the traditional breakfast of chocolate con churros.

As in other countries, more and more restaurants and hotels are offering meal and entertainment deals for New Year`s Eve. However in many towns there are not too many establishments open because everyone wants to be with their families on this special night.

Algunas de estas fiestas duran toda la noche, y después, todos comen el desayuno tradicional de chocolate con churros.

Como en otros países, más y más restaurantes y hoteles ofrecen comida y ofertas de entretenimiento para la Nochevieja. Sin embargo, en muchas ciudades no abren muchos establecimientos, porque todos quieren estar con sus familias durante esta noche especial.
One particular tradition is still strong - you must wear new, red underwear to bring good luck. Also, this underwear must have been bought for you by a relative or friend.

Furthermore, it is typical of many councils in Spain to greet the New Year by lighting big bonfires.

Una tradición en particular sigue siendo muy importante - se debe llevar ropa interior roja y nueva para traer la suerte. Y también, la ropa interior debe haber sido comprado para ti por un miembro de su familia o un amigo.

Además, es muy típico en muchos municipios de España, la recepción del Año Nuevo mediante el encendido de grandes hogueras.
IN ECUADOR - EN ECUADOR

In Ecuador, on New Year`s Eve, elaborate effigies, called `Años Viejos` (Old Years) are created to represent people and events from the past year. These can include political leaders or famous characters that the creator of the effigy may have disagreed with. The dummies are made of straw, newspaper, and old clothes, with papier-mâché masks and are stuffed with fire crackers. At midnight the effigies are set on fire to symbolize the end of the past year and welcoming of the New Year.

The origin of the tradition has its roots in pagan Roman and pre-Roman Spanish traditions still celebrated in Europe and which were brought to many countries of Latin-America in colonial times.

En Ecuador, durante la Nochevieja, se crean efigies elaboradas, llamadas "Años Viejos" para representar a las personas y los acontecimientos del año pasado. Estos pueden incluir los líderes políticos o personajes famosos con los que el creador de la efigie no está de acuerdo. Los maniquíes son hechos de paja, periódicos, y ropa vieja, con máscaras de papier-maché y se rellenan con petardos. A medianoche, se prende fuego a las efigies para simbolizar el fin del año pasado y la bienvenida del Año Nuevo.

El origen de la tradición tiene sus raíces en la época romana pagana y tradiciones españolas pre-romana que se celebran todavía en Europa y que fueron traídas a muchos países de América Latina en la época colonial.
Other rituals are performed for the health, wealth, prosperity and protection of each family member. These rituals are the following:

Twelve grapes: Each person eats twelve grapes before midnight, making a wish with each grape (same as in Spain - see video above).
Yellow underwear: One of the most popular traditions, yellow underwear are said to attract positive energies for the New Year.
Suitcase: Walking around the block with the suitcase will bring the person the journey of their dreams.

Se efectuan otros rituales para la salud, la riqueza, la prosperidad y la protección de cada miembro de la familia. Estos rituales son los siguientes:

Doce uvas: Cada persona come doce uvas antes de la medianoche, haciendo un deseo con cada uva (la misma que en España - ver video más arriba).
Ropa interior amarilla: Una de las tradiciones más populares, se debe llevar la ropa interior amarilla para atraer energías positivas para el Año Nuevo.
Maleta: Caminar alrededor de la cuadra con la maleta llevará a la persona el viaje de sus sueños.
---
Copyright © and TM 2007-2023 fun-learning-spanish.com

Advertisements / Anuncios

Flights to Spain / Vuelos a España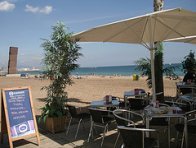 FLIGHTS / VUELOS

HOTELS / HOTELES