Caganers began to appear in Catalan nativity scenes in the 18th century but they did not achieve widespread popularity until the 19th century. These days they are as important as Mary, Joseph and baby Jesus himself.
In fact, the caganer is such an important part of Catalan culture that in 2005, the City Council of Barcelona provoked public outrage by putting up a nativity scene that did not include a Caganer. Many saw this as an attack on Catalan tradition. The local government replied to these criticisms saying that they did not include a caganer because a recent law had made public defection and urination illegal. Therefore, the Caganer was setting a bad example.
After a campaign against the decision, which was called 'Salvem el caganer' (Save the caganer), the caganer returned in the nativity scene of 2006.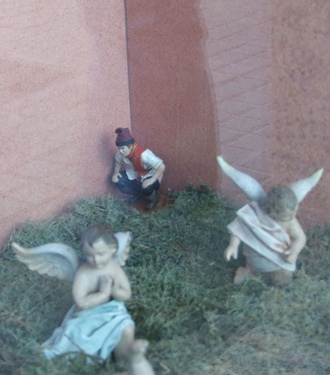 Los Caganers empezaron a aparecer en los belenes catalanes en el siglo XVIII pero en realidad no alcanzaron una gran popularidad hasta el siglo XIX. Hoy en día son tan importantes que los personajes María, José y el bebé Jesus sí mismo.
De hecho, el caganer es un parte tan fundamental de la cultura catalana que en 2005, el Consejo de la Ciudad de Barcelona provocó una protesta pública por la puesta en marcha de un belén que no incluía un caganer. Muchos vieron esto como un ataque a las tradiciones catalanes. El gobierno local respondió a estas críticas afirmando que no se incluyó el caganer porque una ley reciente hizo ilegal la defecación y micción pública. Y así el caganer era un mal ejemplo.
Después de una campaña en contra de esta decisión que se llamaba 'Salvem el caganer' (Salvar el caganer), se restauró el caganer en el belén de 2006.