Many cultures celebrate the transition of girls to maturity. However in Mexico the landmark of reaching of the age of fifteen is a major celebration. It is assumed that the tradition was started by the Spanish conquistadores. Others think it was derived from the Aztecs, who certainly regarded the coming of age as something to be celebrated with religious services and banquets. Either way the conquistadores adopted the tradition as a major event within the Catholic church.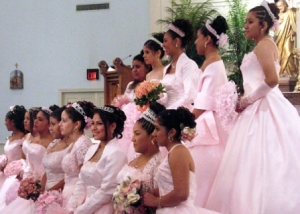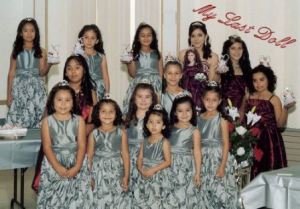 In current times, when girls get to fifteen years of age, a special thanksgiving Mass is celebrated. The quinceanera wears an extra special dress, usually in white, and has a bouquet of flowers and ring. She is required to give formal thanks and prepare for the future challenges of womanhood. All her family and friends attend the Mass, and often is accompanied by 14 girls representing each year of her life. A prayer of thanksgiving is offered at the end of the Mass and her bouquet of flowers is handed over to the church as a gift to the Virgin Mary.
Following the religious ceremony the family of the quinceanera put on a big party where there is food, music, dancing and presents. The important climax of this gathering is the first waltz. The quinceanera dances with her father to show her love and respect for her dad. Then everyone else can ask her for a dance and the festivities continue until the early hours. Of course there is always a special cake for the occasion, very much like the tradition of the wedding cake.