Carlos Piñana was first taught the flamenco guitar by his father, Antonio, who was a famous classical guitarist in his own right. In fact Carlos was from a celebrated musical family, his grandfather, also Antonio, being a founder and leader of cantes mineros, a type of Andalusia folk music. Carlos then progressed to the conservatory in his home city, Cartagena, as a ten year old. During 8 years of classical study, he demonstrated a wonderful technique and `feel` for flamenco. So it wasn`t surprising that he went on to win several top competitions and prestigious awards.
He has toured major cities in Spain and the rest of the world and released six albums. Listen to samples of these on: http://www.carlospinana.com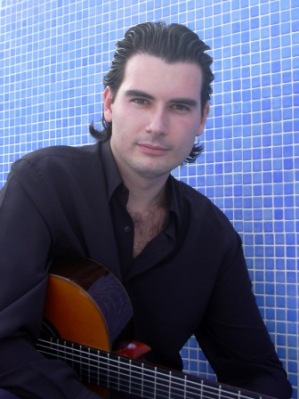 Carlos Piñana fue enseñado la guitarra flamenca por primera vez por su padre, Antonio, que era guitarrista clásico famoso en su propio derecho. De hecho, Carlos era de una familia de músicos célebres; su abuelo, también Antonio, siendo fundador y líder de los cantes mineros, un tipo de música popular de Andalucía. Entonces, Carlos progresó al conservatorio de su ciudad natal, Cartagena, a diez años de edad. Durante 8 años de estudios clásicos, demostró una técnica maravillosa y que `siente` el flamenco. Por lo tanto, no era sorprendente que ganó varios concursos y premios de prestigio.
Ha recorrido las principales ciudades de España y el resto del mundo y ha grabado seis discos. Escuche a las muestras de estos en: http://www.carlospinana.com